| | |
| --- | --- |
| "OG" Toy Store Owners, Mary and Ray Warner at their 50th Wedding Anniversary Party | Current owners (L to R) Nick and Emily Guffey, Margaret Warner at Toy Fair in New York City |
The Toy Store, Inc. has been in business since 1975, and is one of the largest independently owned toy stores in the United States!  The company began in Topeka, KS - we opened our first store in downtown Topeka in 1976! At this time, our founder, Mary Ellen Warner wanted to open a business but was unsure what to open. She approached the owner of the Palace Plaza shopping mall and asked what she was looking for…her response, "either a flower shop or a toy store". Mary knew nothing about flower arranging but she had 10 kids, so she started a toy store! When it came time to name the business, Mary had read a book that stated you need to name your business what you sell. "Well I sell toys; I guess I'll call it The Toy Store."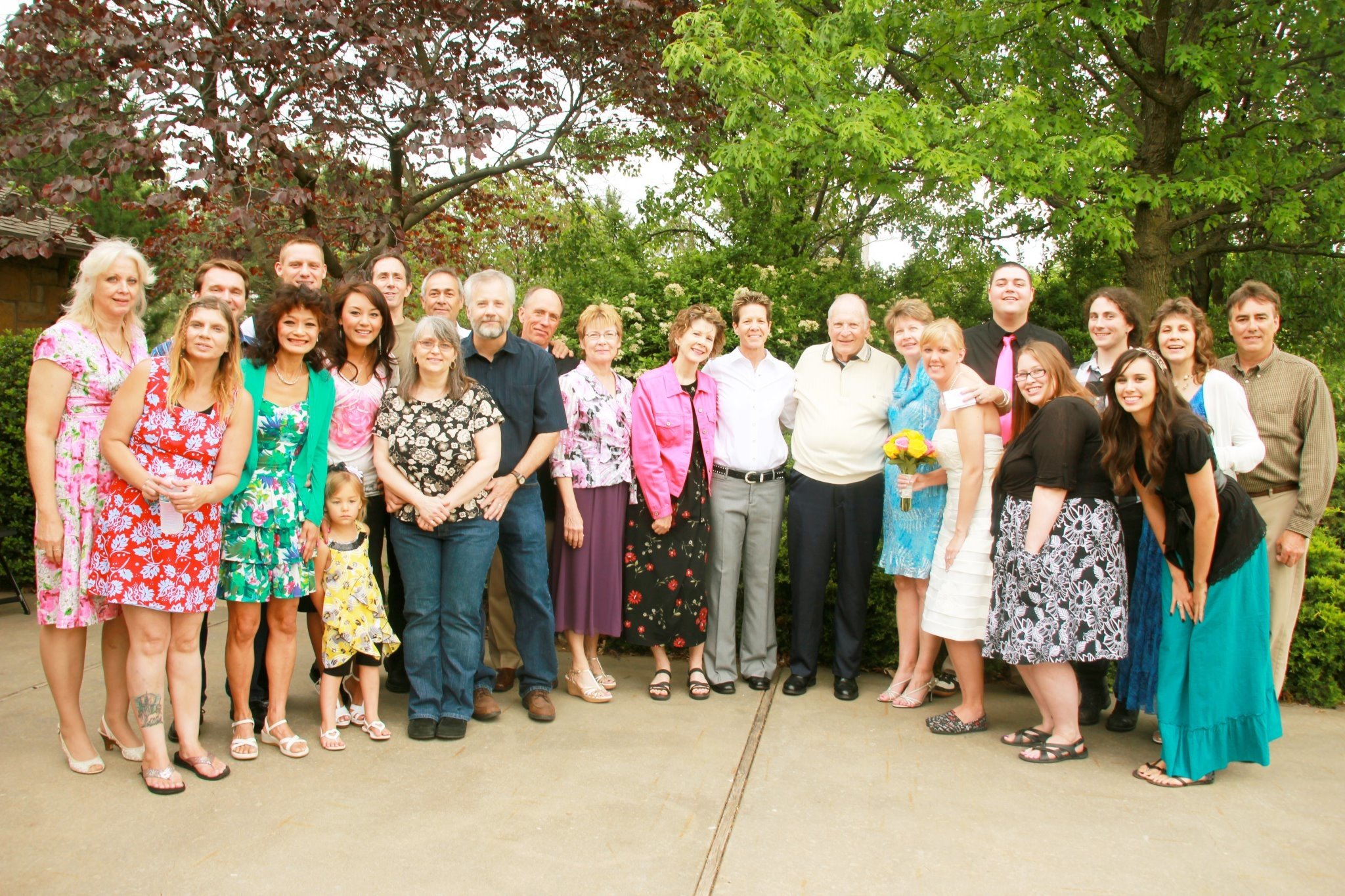 "Some" of the Warner family at Nick and Emily's Wedding in 2012
Unfortunately, in 1985, Mary contracted encephalitis and became very sick. Her daughter Margaret, having worked for the store since she was 14-years-old, volunteered to buy the store from her parents and continue to run the business. Under Margaret's tutelage the business grew by leaps and bounds. Along with the help of family, Margaret opened several locations, each one larger than the last. At last, she purchased the former Litwins building at 21st and Fairlawn and there it has been ever since. The Toy Store expanded to Lawrence in 1998, moving to its current location in the 900 block of Massachusetts street, in 2005.
Traci, Ray and Emily

  Margaret, Jhami, Tyler and Grace

 

Emily, Nick, Traci, Stephanie and Margaret
Throughout the store's lifetime, many family members have worked for The Toy Store, but in 2012, Margaret's "favorite" employee joined the team. Son Nick joined The Toy Store staff as an associate after years (and years) of exclaiming that he would quote, "NEVER work for the store"; eventually working his way up to the Lawrence Store Manager. Nick has joined Margaret on many toy buying excursions over the last 10 years. He has been all over the country and spoken at a handful of toy conferences about many of the struggles that a store manager can face in the industry. In 2019, Nick was awarded the Rising Star award from the American Specialty Toy Retailers Association (ASTRA) at their annual summer Marketplace & Academy in Pittsburg, PA. 
| | |
| --- | --- |
| | |
Emily, wife and life partner to Nick, joined the team at the Topeka location in 2014 after deciding to leave the teaching profession. She had always loved retail and was super excited about the idea of being a business co-owner one day. Emily helps Margaret buy the thousands of products that we carry in store; specializing in the plush, LEGO, and book departments. As the most tech savvy of the three, Emily also oversees the website and shipping departments. It is highly likely that if you email with a question about your order or product question, Emily is the one to message you back. She takes pride in being considered the walking store encyclopedia. 
| | |
| --- | --- |
| | |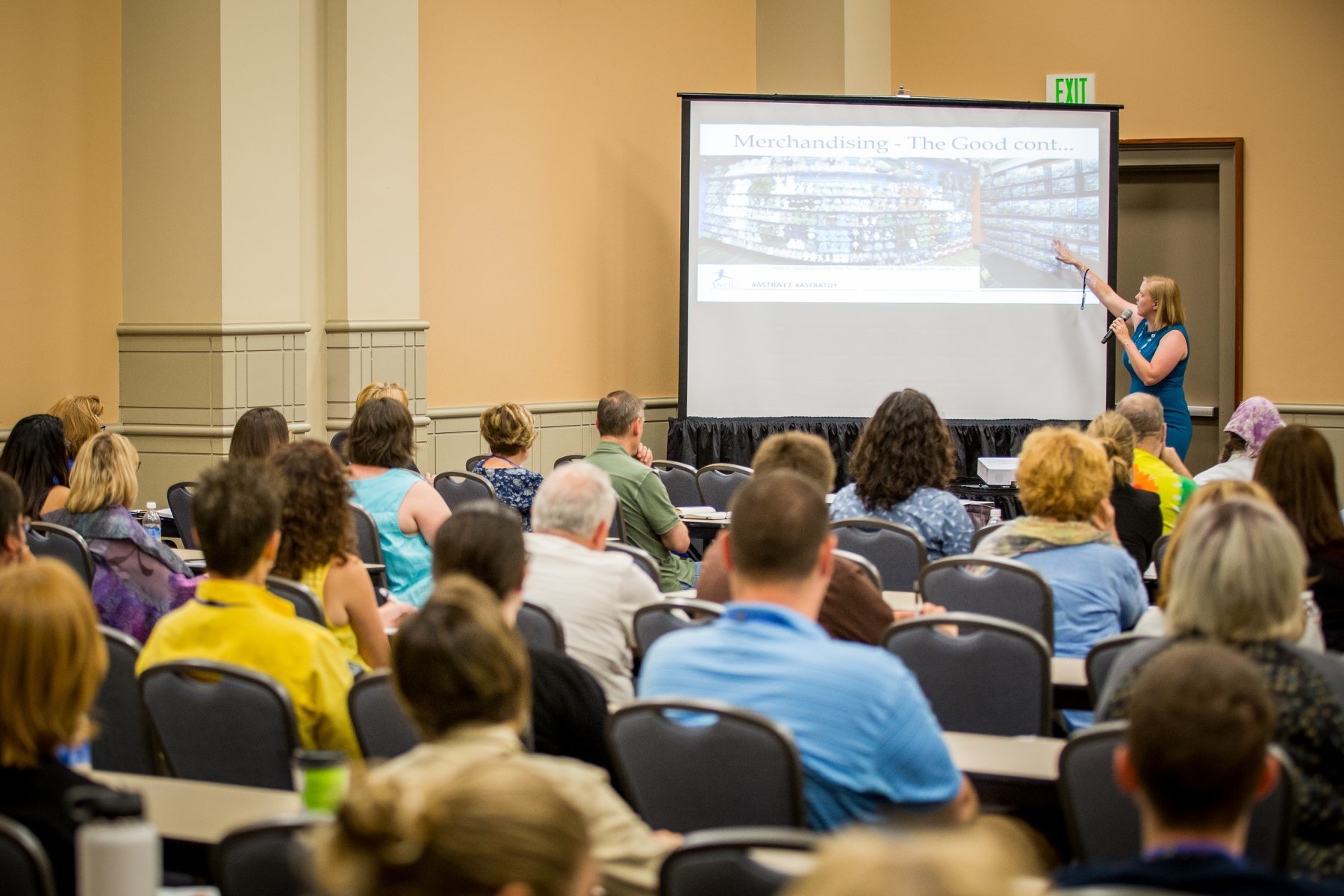 Throughout our history the one thing that we take the most pride in is that our staff are THE most knowledgeable source on children's playthings in the area.  We hand pick every item that we carry and also let our staff, customers and their parents the chance to test out toys before making a purchase, or just enjoy what the store has to offer!  We offer a wide selection of toys and playthings, and strive to provide a one-of-a-kind shopping experience for every customer!  The Toy Store can be your one-stop shop for every occasion - we carry a wide variety of greeting cards, and even offer gift wrapping!